2022 Tata Tiago iCNG road test review
Tata has something of a stronghold over the affordable electric vehicle segment, with its best-selling Nexon EV, and the Tiago EV, but they have - so far - missed the boat when it came to a vastly more affordable to run form of transport in the CNG market. It's a segment where Maruti Suzuki rules roost, and for good reason - it's got nearly every model it sells available in a CNG-variant. Hyundai isn't too far behind, but Tata has decided to do things a little differently for its foray into this low-cost of running segment. The Tiago and Tigor iCNG models launched simultaneously also offer top-end variants! It may sound simple enough, but every other CNG model out there is usually in a mid/base variant, and that's it. Just the one to choose. With the Tiago/Tigor iCNG, you have an entire range. Time will tell if it'll pay off but from our drive in the top-end Tiago iCNG XZ+, we can say it felt the furthest thing from a compromised package.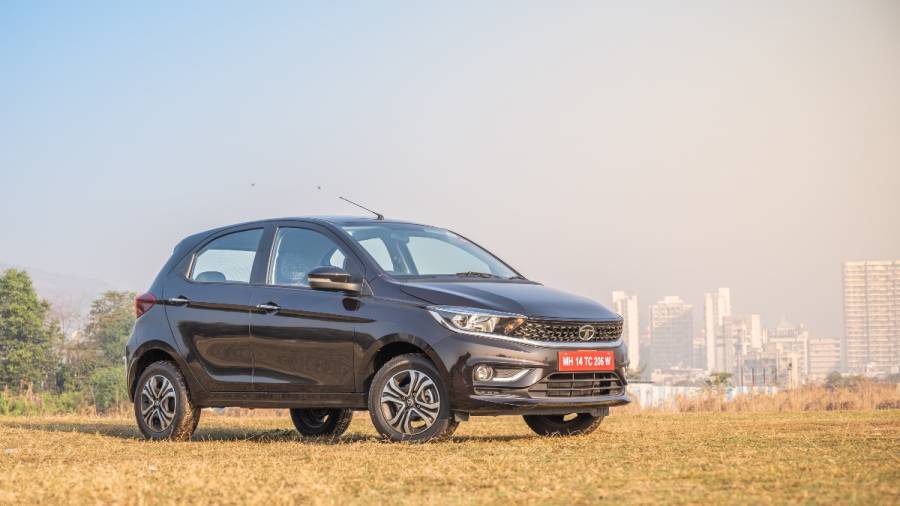 2022 Tata Tiago iCNG styling
The Tiago and Tigor have been mildly updated for 2022, and these changes carry over to the iCNG models. There's a new grille, projector headlamps, LED DRLs, and more chrome all around. CNG models swap out the 15-inch alloy wheels on the top variants for 14-inch steel wheels and smartly designed wheel covers, similar to what's on the Tigor EV. There's also a new Midnight Plum exterior shade for the Tiago iCNG, an interesting colour that appears dark until one sees the purple tinge and metallic flakes when the light hits it right.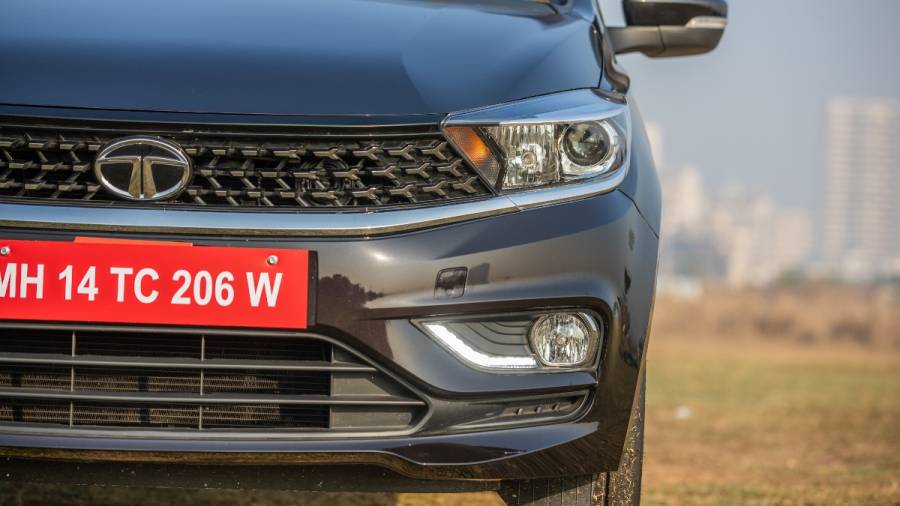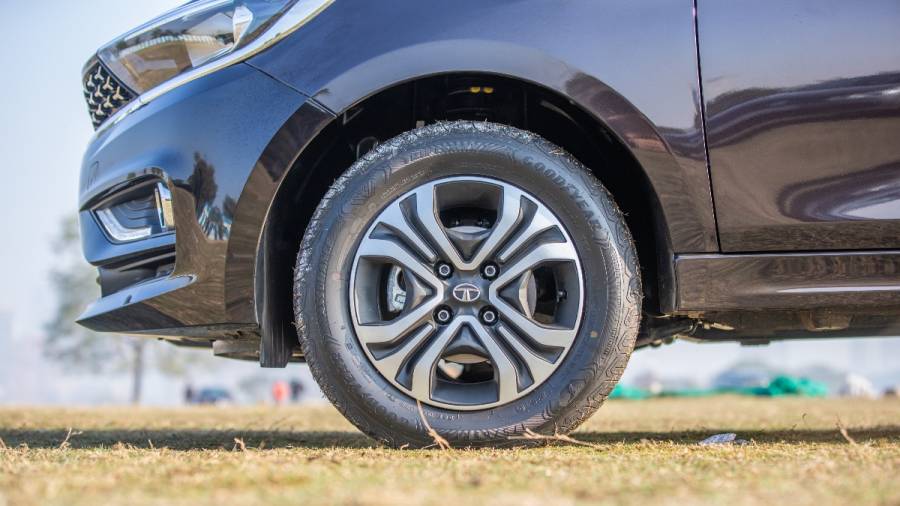 2022 Tata Tiago iCNG interiors, boot space & safety features
Inside, the Tiago iCNG has a black/beige colour theme instead of a black/grey one, with the general updates to the Tiago being the 7-inch infotainment by Harman, redesigned flat-ish bottomed steering, and instrument cluster. The iCNG model adds in a CNG fuel gauge (but no distance-to-empty, or average efficiency while in CNG mode), while the Tigor iCNG goes further with auto headlamps and wipers. As is, CNG models are usually only available in basic variants so this move into more premium variants should be welcome.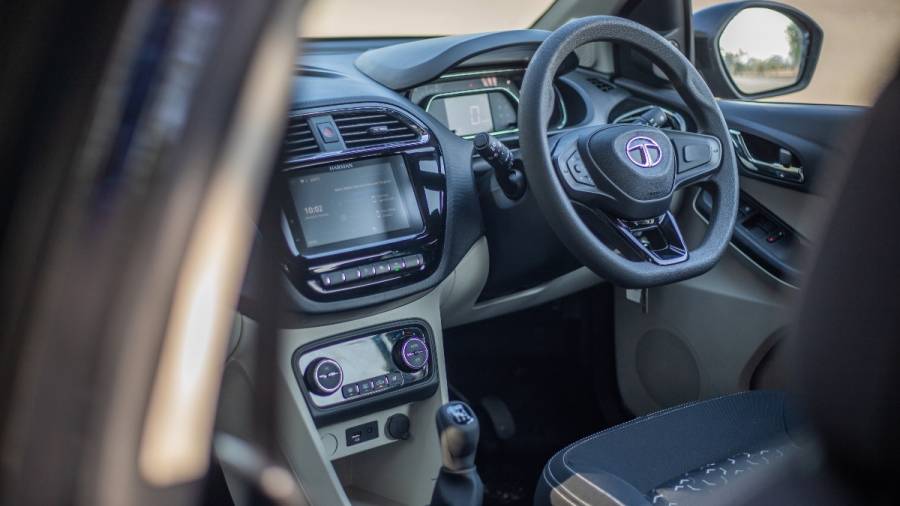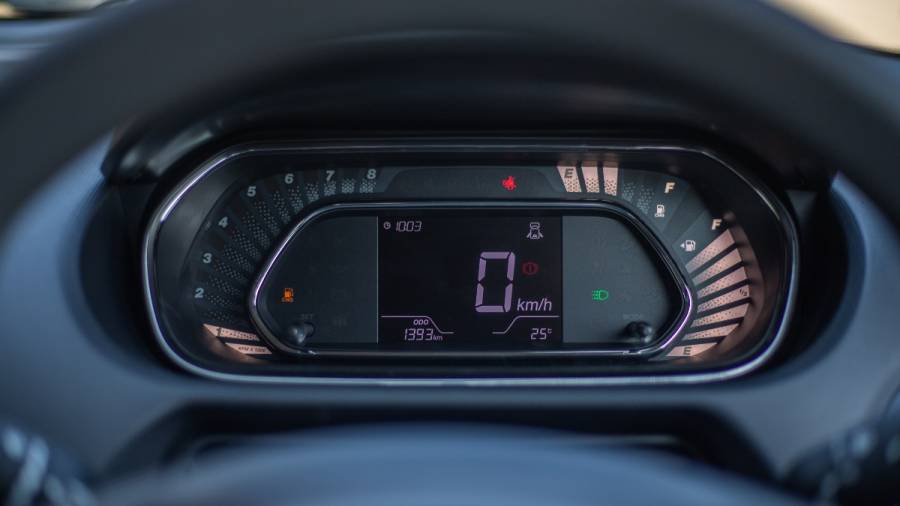 Space in the rear is just about adequate, but can feel tight for taller passengers, especially with the short setback. What's not so welcome - the Tiago's 242-litre boot is cut down to 80-litres, limited to a slim space under the cylinder, accessible when you drop the rear seats. The parcel tray is supported by the cylinder mount brackets so it could theoretically handle a heavy load. As always, the lack of boot space in CNG hatchbacks is something one has to live with.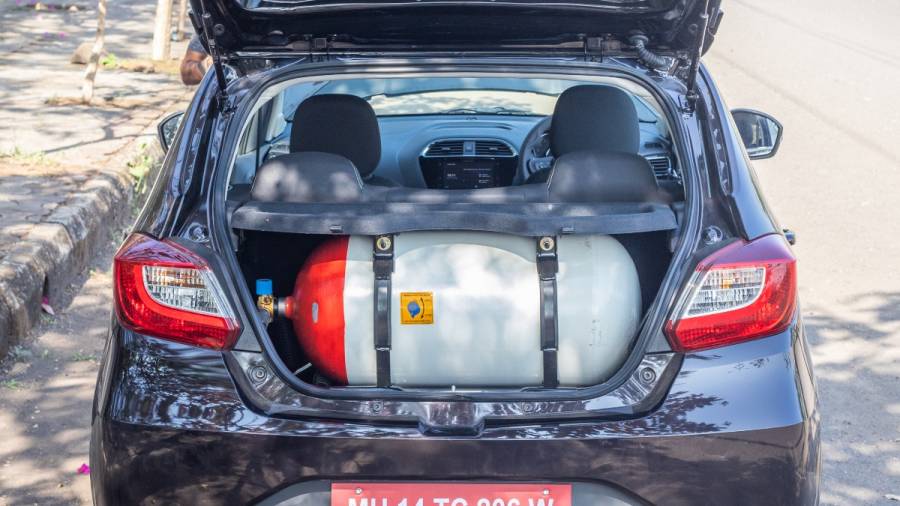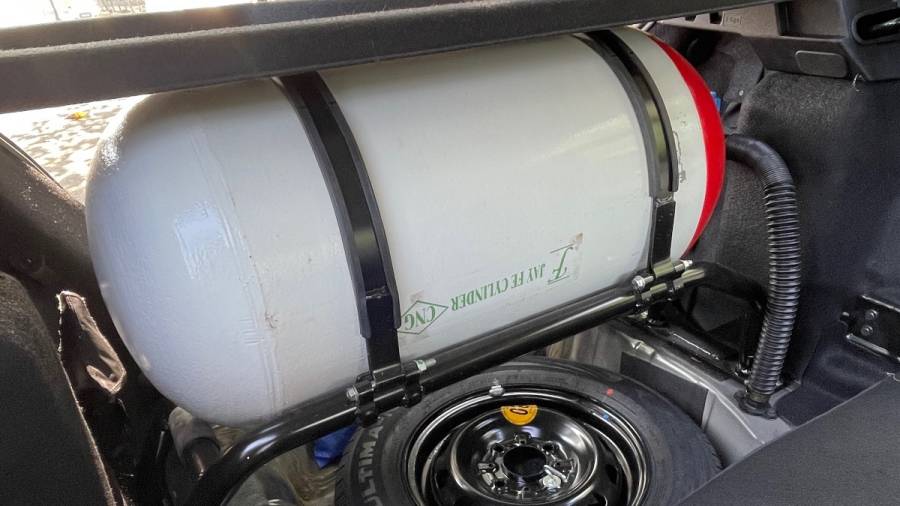 As for safety, the regular Tiago is rated 4-stars by GNCAP and comes with 2 airbags standard same as this car, though this CNG model hasn't been tested yet. The CNG kit has been procured from a reputed OEM and then tweaked at the Tata plant to suit the specific use, and the entire system is a closed loop with thermal safety systems in place. Moreover, it's the first CNG-equipped car to include a fuel lid warning, and cut off system that prevents the car from being run if the fuel filler lid is open. Tata also claims that the CNG refill nozzle allows for marginally quicker refills, though that's something we haven't had the chance to test. 
Why CNG?
If you're reading this review with keen interest, you probably already know the details - CNG costs about Rs 66 per kg and that's after some steep price hikes. A car with a 60-litre CNG tank, like this one, holds about 8-10kg of CNG. And if you take the 26.5km/kg certified efficiency at face value you're looking at about 200-250km on a tankful that costs about Rs 600, making for running costs around the Rs 3/km mark. That means it's half as expensive as running a petrol-only car! The drawbacks are usually a lack of boot space, reduced performance, long lines at CNG stations, and the safety aspects, the latter which should be addressed by the fact that company-fitted CNG cars are regarded as being the safest of the lot. 
2022 Tata Tiago iCNG powertrain
The Tiago iCNG is powered by the same 1.2-litre, 3-cylinder Revotron engine in the regular Tiago, but in CNG mode, has its power/torque figures dropped by 15 and 16 per cent respectively. That's a sizeable drop by all accounts, resulting in 73PS and 95Nm peak figures compared to 86PS/113Nm on the petrol car. But, good news! The full figures are available when you switch back to petrol mode with a button press on the dashboard. Looking at our historical data from the last time we tested the Tiago, the performance more than lines up all right. 
2022 Tata Tiago iCNG driving impressions
And the figures are where we'll start, since the reduction in performance is often something CNG-car owners begrudgingly live with. In our testing the Tiago in CNG mode completed the 0-100kmph run in 15.8s, only 1.5s behind the petrol-mode figures of 14.2s. The latter figure is actually quicker than the 14.9s we tested the Tiago 1.2 petrol at back in 2019 but that could also be down to test differences. Importantly, while the outright performance in CNG mode (read pedal to metal) is more relaxed than in petrol mode, in regular driving you won't feel the difference, as shown by the near-identical roll-on figures whether in CNG or petrol mode - and that's where it counts. In our roll-on acceleration tests (30-50kmph, 50-70kmph, 60-80kmph in third, fourth and fifth gear respectively) we managed identical figures of 5.4s, 8.3s and around 9s in both CNG and petrol modes, showing just how good the tuning is. In fact, at really low speeds, CNG mode felt a little smoother, with absolutely no hint of surging, something we've experienced in the admittedly few CNG-cars we've had the chance to drive previously.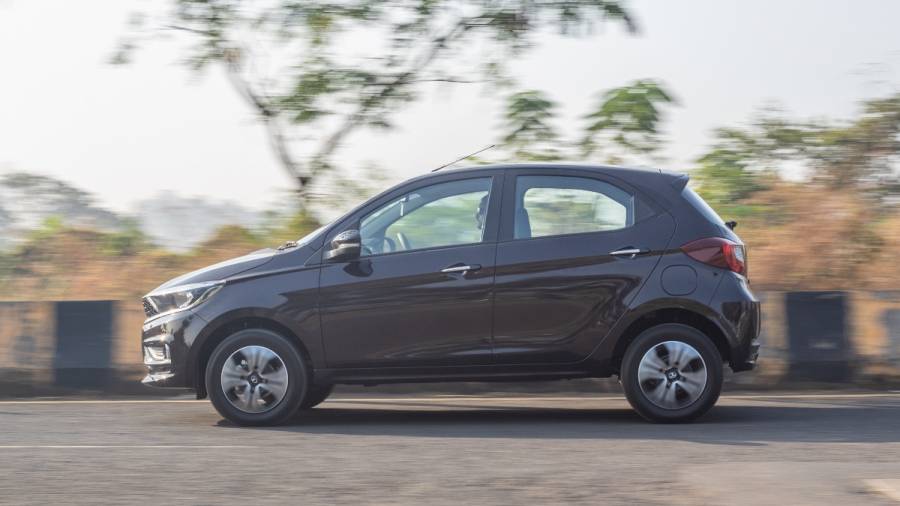 The iCNG models also have the segment-first advantage of starting of in CNG mode, and whether that's advisable or not is up for discussion (petrol-mode is said to warm up the engine more effectively), but right from pulling away (barely any throttle required) the Tiago iCNG feels adequate, peppy even. City driving is easily dispensed of, sometimes even in higher gears than strictly necessary. You could climb speed breakers in second gear, there's enough on tap to get you going without lugging the engine. You'll find yourself shifting up around the 2,000rpm mark most times, and NVH is well kept in check even to about 3,000 revs. We did try climbing a slight incline and faced no issues here either. Out on the highway at a steady 100kmph revs were at the 3,000rpm mark. We didn't have a chance to test the efficiency considering our short time with the car and the tricky CNG refuelling, but we did manage about 120km on a tankful including our shooting and testing, which included a lot of heavy right-foot driving. Tata tells us they usually manage up to 300km on a tankful with careful driving.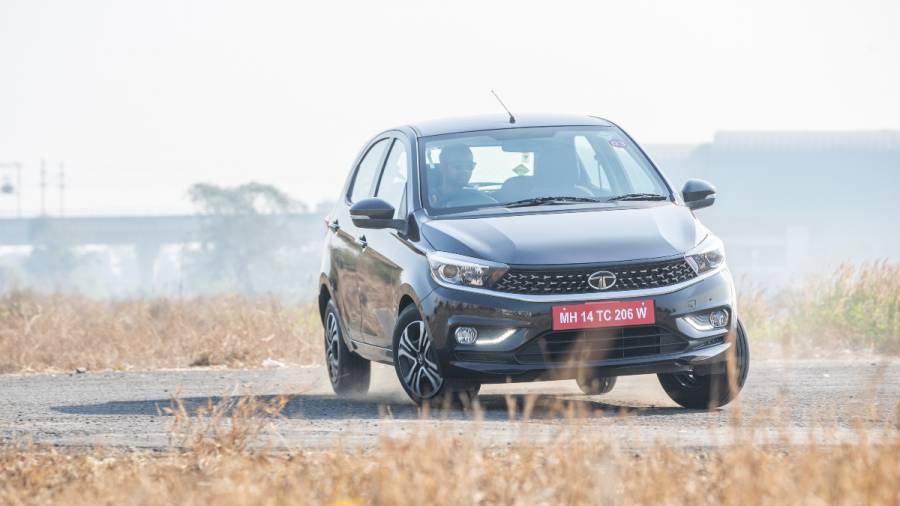 2022 Tata Tiago iCNG ride and handling
Now the CNG tank has added around 100kg go weight to a hatchback that was amongst the heaviest in the segment already, and it's relatively high up, even more so than in a regular CNG-car by virtue of the luggage space being under the cylinder. But Tata has tuned the suspension to account for it. So while ground clearance very marginally drops, the ride quality doesn't. In fact, the Tiago iCNG's ride feels compliant enough to nearly match ride levels from a segment above, with the only downside being that it can get a little noisy. Not that most people will care about how their CNG car handles, but the Tiago iCNG doesn't feel like it carries that extra weight badly, cornering with about as much lean and roll as what we remember of the regular car. On fast lane change manoeuvres at 80kmph, you do get the feeling that the rear of the car has a little more momentum than ideal but it never feels like it wants to overtake the front. 
2022 Tata Tiago iCNG verdict
A fully loaded Tiago iCNG comes in at Rs 8.53 lakh on-road Mumbai, or about Rs 1.1 lakh more than the newly introduced Maruti Suzuki Celerio CNG, which has more space but less features. Time will tell if the premium CNG variants will sell, but for me the fact that the Tiago didn't feel like too much of a compromise as a package is a bonus - especially given how close the CNG performance is to the petrol's. 
Photography by Varun Kulkarni/Tortugadatacorp.com
Also read, 
2022 Tata Tiago iCNG and Tigor iCNG launched in India, prices start from Rs 6.10 lakh
2022 Tata Tiago iCNG and Tigor iCNG: Prices and variants explained