A final chance to own a revered coachbuilt Mulsanne Grand Limousine by Bentley Mulliner
Bentley customers have one last chance to get their hands on one of Bentley's most distinctive and remarkable vehicles, the Mulsanne Grand Limousine by Mulliner. Only 5 of these rare Mulsanne's were made by Bentley in 2015 and are now up for sale.
Created by hand by Mulliner for clientele wanting the greatest in luxury limousine transportation, all five of these automobiles were delivered to the United Arab Emirates, although they were never used nor registered. The body of this modern coachbuilt Mulssane has been stretched by 1,000 mm, and the roof has been lifted to offer an additional 79 mm of headroom in the rear, creating a passenger experience unlike any other.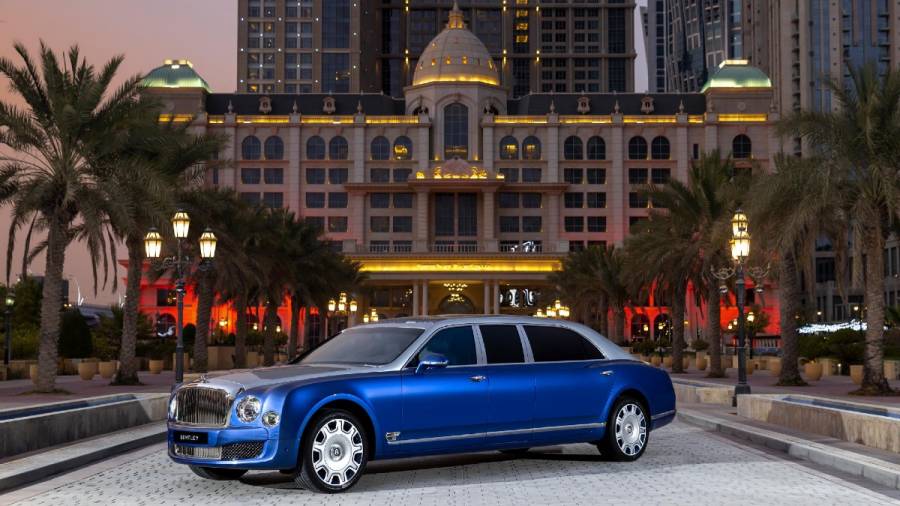 Bentley Mulliner was given permission to manufacture a limited run of these rare automobiles for like-minded clients after it was originally designed as a private request. Bentley Emirates, Bentley's retail partner in the United Arab Emirates, has just made five of these available for purchase, with shipping across anywhere across the world.
Mulsanne Grand Limousine is the pinnacle showcase of Bentley's in-house custom division's outstanding capabilities and potential. The cars available on sale showcase their own distinctive personalities and a series of exclusive specifications.
Mulliner's Mulsanne Grand Limousine was inspired by luxury private aircraft and was created with four passenger seats in mind, including two rear-facing seats that allow passengers to converse face-to-face. With the best materials being used throughout the interior, a bottle cooler with crystal flutes stands between the forward-facing seats, while a beverage cabinet with custom crystal tumblers lies between the rear-facing seats, accentuating an extremely luxurious travelling experience.
Bentley Mulliner designed and installed a unique heating, ventilation, and air conditioning (HVAC) system with two separate climate zones that allows each of the rear passengers to regulate their own climate temperature without impacting the experience of their fellow travelling companions. Electrochromic 'smart glass' divides the front seats from the back seats, marking the first time this technology has been used in a Bentley. The entire panel may be turned from transparent to opaque at the push of a button for total privacy.
The famous 6.75 litre twin-turbo V8 rests under the bonnet of this massive Bentley and when called upon can produce 512PS and a mindblowing 1,020NM of torque. A bespoke set of 21-inch wheels have been treated to this car to match the paintwork. Even the one-of-a-kind stainless steel Flying 'B' bonnet emblem, is etched with the words 'Coachbuilt by Mulliner'.
This is the final opportunity to own a piece of automotive history from one of Bentley's most distinctive and unusual vehicles. Mulliner recently celebrated its 1000th custom commission since establishing its own dedicated design team in 2014.
Also Read:
Bentley Flying Spur Hybrid gets sustainability-themed Odyssean Edition
Bentley Mulliner develops world's largest carbon fibre wheel for the Bentayga
How does the Mercedes-Maybach GLS 600 stack up against the Bentley Bentayga and Rolls-Royce Cullinan?
Price (Ex-Delhi)
Starts Rs 2.69 Crore
Price (Ex-Delhi)
Starts Rs 4.1 Crore
Price (Ex-Delhi)
Starts Rs 3.11 Crore