Ather Energy commences deliveries of the Ather 450 electric scooter
Ather Energy, the electric mobility start-up from Bangalore has begun deliveries of its flagship scooter, the Ather 450. The firm held an event to commemorate this in Bangalore, where the first few customers were invited to its facility to be handed over their scooters.
Turn indicators are housed in the handlebar shroud and are LED units as well. The translucent black screen that sits in between, cleverly covers a little duct that helps in the cooling the battery management system that's hidden inside
The company had started accepting pre-orders for both its bikes, the 45 and the 340 in June. The 340 is priced at Rs 1.09 lakhs OTR and the 450 is priced at Rs 1.24 lakh. Includes a charging cable, installation and one year subscription to Ather One, a maintenance and service plan for its scooters priced at Rs 700/month.
Ather Energy has already set up 17 charging stations across Bengaluru as part of Ather Grid and the numbers of chargers installed, is expected to cross 30 soon.
The only difference between the two models are their power outputs – the 340 offers 4.4kW of peak power while the 450 will offer up to 5.4kW of peak power. Peak torque output for the 450 is 20.5Nm while the 340 offers 20Nm. Claimed range for the 450 in performance mode is 60km, goes up to 75km in eco mode. Range as per the Indian Driving Cycle is 107km.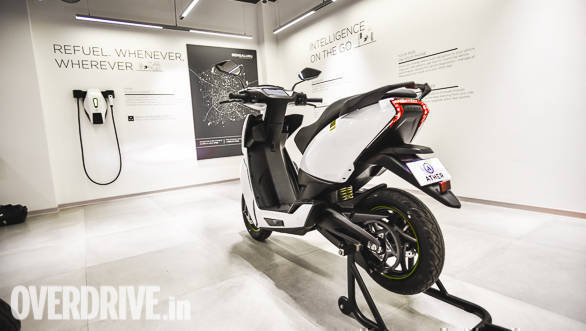 The 340 can attain a top speed of 72kmph and has a range of 60km. Both bike's batteries are waterproofed to an IP67-rating and have a lifespan of around 50,000km.
Ather Energy says that the 340 electric scooter can be charged up to 80 per cent in just 50 minutes using a fast charging mode. In normal mode, it can be charged from any 5A socket.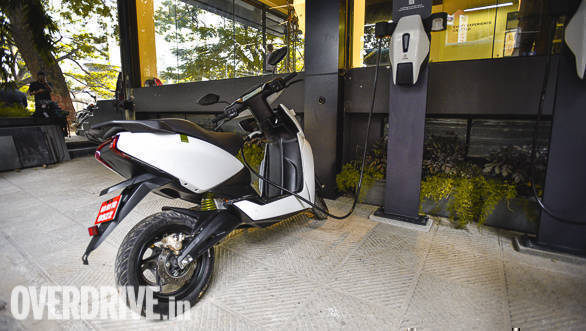 In terms of equipment, the Ather scooters get LED lights which respond to ambient light conditions. They also gets a touchscreen dashboard which integrates cloud-based data to personalise the ride experience. This offers features like user profile based sign-in, on board navigation as well as pre-configured Sport and Economy drive modes.
The electric scooters can be integrated with a mobile app which will allow owners to configure ride and profile preferences and sync navigation routes remotely. Also, based on predictive analytics and aggregation of ride statistics, the scooter can deliver customised riding style recommendations.
Also See,
2018 Ather 450 first ride review
Ather 450: Four things we like and three we don't
Price (Ex-Delhi)
Starts Rs 1,24,000