Benelli to relaunch TNT 300, 302R, and TNT 600i in India by October
Benelli has recently announced a new partner for India in the form of Adishwar Auto Ride India (AARI), a subsidiary of Hyderabad-based Mahavir Group. The two companies have also signed a Memorandum of Understanding with the Telangana government to not only set up an assembly unit at Medichal near Hyderabad in the state but also localise and produce motorcycles there at a later stage. The first three products to roll out of this facility will be motorcycles we are already familiar with. Benelli India will relaunch the Benelli TNT 300 and TNT 600i nakeds, as well as the 302R faired motorcycle in the country. The company intends to launch these motorcycles as soon as the new facility is fully-operational, by October this year. Read the details of Benelli India's plan here.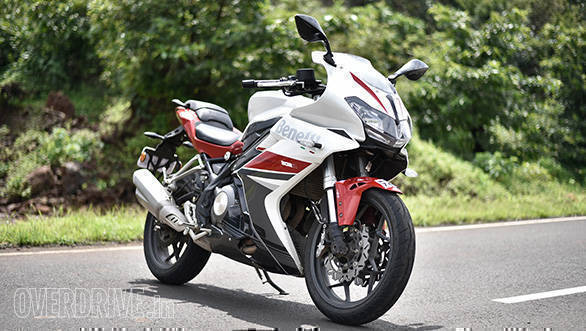 Benelli 302R
These three motorcycles had been on sale in the country until the then DSK-Benelli had been delivering them to dealerships. However, once the stocks depleted at dealerships and the previous partner was unable to bring in more, deliveries of the motorcycles had been stopped. Now, as per new Benelli India MD Vikas Jhabakh, the first order of business is to resume the deliveries of motorcycles that had been stalled in the interim. Benelli is also planning to launch four new models including the TRK 502 adventure tourer before the year ends.
Benelli TNT 300
Benelli India says that once the new facility is able to supply the motorcycles and spares to their dealer network, deliveries will resume. Another development under the new partnership is that the Benelli TNT 300 will now be the least-priced offering in their India line-up. For, the previous title holder, the TNT 25 priced at Rs 1.72 lakh has now been discontinued, as Benelli is looking to introduce its updated global line-up including new 250cc models into the Indian market.
Benelli TNT 600i
Competitive pricing on these relaunched motorcycles will play a key role as other players including those that Benelli India sees as direct competitors are also focussing on the same. Most recently, India Kawasaki Motors (IKM) launched a more localised Ninja 300 ABS at Rs 2.98 lakh (ex-showroom). The Benelli TNT 300 was previously priced at Rs 3.08 lakh, and the 302R at Rs 3.62 lakh (ex-showroom), so it may consider revising its pricing too.