DSK Motowheels announces partnership with Motul
DSK Motowheels has announced a three-year partnership with Motul as their official lubricant partners. The agreement was signed by Shirish Kulkarni, chairman of DSK Motowheels and Jiten Goswami, chairman of Motul.
"There is a perfect synergy between our range of high-end superbikes and Motul which is one of the world's most trusted lubricant manufacturing companies as we share the same passion for performance. We are very pleased with this partnership and are confident that this association will go a long way in strengthening our brand loyalties within the Indian market," said Shirish Kulkarni.
(L) sitting – Shirish Kulkarni and (R) – sitting Jiten Goswami. (L-R) standing Shivapada Ray, Jayesh Butt and Balwally Ashwin
DSK Motowheels is a part of the approximately Rs 5,000 crore DS Kulkarni group. They assemble, market and sell Hyosung bikes in India. These bikes were earlier sold by Garware motors, before DSK bought the motorcycle business from them in June 2012. Motul on the other hand is a well-known French lubricant manufacturing company. As a specialist in synthetic oils, Motul has partnered many race manufacturers and sports teams.  MotoGP, Endurance, Superbike, Supercross, World Rally Championship, FIA GT, Le Mans 24 Hours and Le Mans Series are some of the major competitions Motul is involved with.
"We aim to bring in our knowledge and expertise in the field of motor sport lubricant to deliver world-class technology for the range of DSK Hyosung superbikes. Our high quality lubricants will provide better engine protection and deliver a great riding experience," said Jiten Goswami.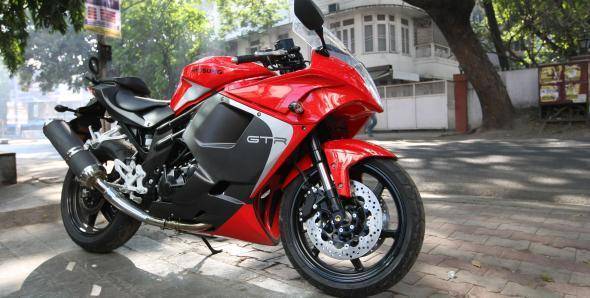 Hyosung
The Hyosung bikes that DSK has on offer in India include the GT650R, GT650N, GT250R in the performance segment and the ST7, Aquila Pro in the cruiser segment. Back in June, the company had also spoken of planning to launch the GV250 in India. DSK-Hyosung are also looking at launching a 150cc commuter motorcycle in the Indian market by late 2014 or early 2015.
[Living with the superbike- Hyosung Aquila Pro] [Hyosung GT650R review]
Price (Ex-Delhi)
Starts Rs 4,79,000