Government orders probe into Tata Nexon EV fire
The government has now ordered its own inquiry into the recent Tata Nexon EV fire. This comes after Tata Motors too said in a statement that it would carry out an investigation into the cause of the fire in its best-selling EV SUV.
Tata Nexon EV fire government inquiry
The government has tasked the Centre for Fire Explosives and Environment Safety(CFEES), the Indian Institute of Science(IISc) and the Naval Centre and Technology Laboratory(NSTL) with this investigation. These are all government entities and have been asked to study the incident and suggest preventive measures.
The government has actively pursued these recent EV fire incidents. The recent spate of two-wheeler EV fires had prompted the government to set up a panel to probe the incidents seen with scooters for Ola Electric, Pure EV, and Okinawa. The panel is set to submit its report on this in the coming weeks and there could be penalties levied on the firms, depending on the findings. This Tata Nexon EV fire is the first widely reported one of an EV four-wheeler, the government still hasn't made its stance on penalties fully clear on this.
Tata Nexon EV fire statement
Tata Motors has also said it will conduct a detailed investigation into the cause of the Nexon EV fire. The company said in a statement, "A detailed investigation is currently being conducted to ascertain the facts of the recent isolated thermal incident that is doing the rounds on social media. We will share a detailed response after our complete investigation. We remain committed to the safety of our vehicles and their users. This is the first incident after more than 30,000 EVs have cumulatively covered over 100 million km across the country in nearly 4 years."
Tata Nexon EV prices, market share, range
Tata Motors is by far India's largest EV maker with over 80 per cent share in the passenger EV market. Which makes it even more imperative for the firm to address this situation effectively to keep buyer confidence in electric vehicles intact.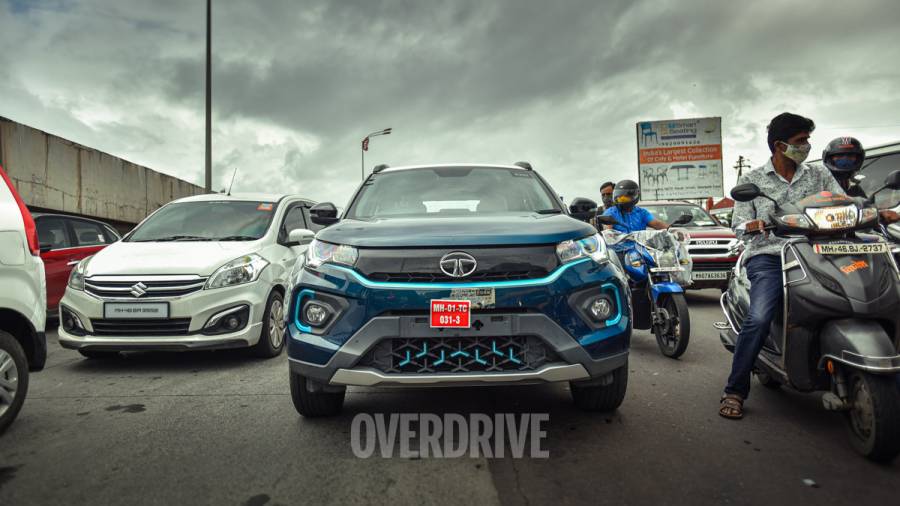 The standard Tata Nexon EV has a 30.2 kWh LFP battery pack that is good for a 312 km ARAI-certified range. This pairs with a 131PS and 245 Nm electric motor. The long-range Tata Nexon EV Max gets a larger 40.5 kWh lithium-ion battery pack with 437 km range and a more powerful 143PS and 250 Nm motor. Prices for the Tata Nexon EV start from Rs 14.54 lakh and goes on to Rs 17.15 lakh for the top XZ Plus Lux Dark Edition. The 2022 Tata Nexon EV Max is priced at Rs 17.74 lakh for the XZ Plus variant and Rs 18.74 lakh for the XZ Lux version.
Also read,
2022 Tata Nexon EV Max review, road test - real-world range tested!
Tata Nexon EV Max Vs Tata Nexon EV: What's different?
Tata Nexon EV Max launched with 437 km range, prices start from Rs 17.74 lakh
Tata Nexon EV Max 2022: Prices and variants explained
Living with an electric car: Mumbai-Pune roadtrip in a Tata Nexon EV