Spec comparo: Kawasaki Vulcan 650 S vs Harley-Davidson Street Rod
Vulcan S is Kawasaki's first cruiser to be launched in India. Street Rod is the sportier avatar of the most affordable and best selling Harley in India, the Street 750. Both are positioned as middleweight cruisers.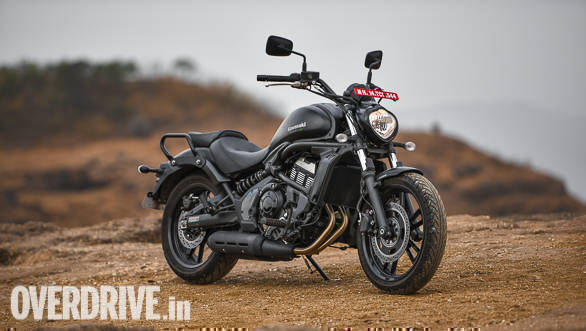 The Kawasaki Vulcan S is the newest addition to the middleweight cruiser segment in India and is powered by the same engine as the last generation Ninja 650
Design
Street Rod is sportier and more modern looking but conventionally designed, typical of a Sportster.  Vulcan S is unconventionally designed though it looks modern too. Both get matte paint finishes. Street Rod on offer in multiple colors. Vulcan S on offer only in matte black in India, limiting its appeal to some buyers. Both are similar in size but Vulcan looks larger visually, therefore more attention-grabbing. Fit-finish levels on Vulcan are better, except for pillion grab rail and saree guard.
Ergonomics
The Kawasaki Vulcan S' stepped seat feels comfortable to sit on, especially since the step supports the rider's tail bone well. The pillion perch though isn't very practical and feels too small
Vulcan's seating is traditional of a cruiser - low slung, feet forward, slightly tall handlebars. Street Rod's seating is unconventional - short handlebars need you to crouch forward slightly even as you sit feet forward. Looks odd but is easy to get used to. Vulcan seating is far lower at 705mm. Street Rod saddle height is 765mm. Vulcan gets adjustable footpegs - can be moved in either direction by an inch. Street Rod pegs are fixed.
Equipment
Both use single pod instrument clusters. Street Rod gets analog speedo, digital tacho, and trip meter. Vulcan gets full sized tacho, digital speedo, distance to empty, current and average fuel efficiency, trip meter.
Engines
Street Rod uses liquid-cooled, 749cc V-twin. Vulcan uses liquid-cooled, 649cc parallel-twin. Street Rod power output unknown, will be about 60PS though. Torque output is 64Nm. Vulcan offers 61PS and 63Nm. Street Rod makes peak torque at 4,000rpm as opposed to 6,600rpm on the Vulcan as the Kawasaki engine is straight off the Ninja 650, a sportsbike. Street Rod should thus offer better low speed tractability. Major letdown on Vulcan is lack of a cruiser-like exhaust note. Street Rod a lot more impressive on the acoustics front with its characteristic V-twin sound.
Kawasaki Vulcan 650 S road test review
Harley-Davidson Street Rod 750 review
Handling
Vulcan's ground clearance is 130mm. Street Rod GC is 205mm meaning it won't scrape its underside or grind its pegs as quickly as the Vulcan. Both get ABS as standard but no riding modes or TC. Street Rod uses a twin, 300mm disc setup upfront. Vulcan uses a single 300mm disc up front.